Counting Cranes: 5 of the Most Active Construction Markets
By: Admin ON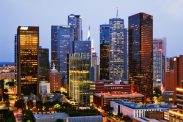 Demand for rental housing has had multifamily construction booming since 2010, with several cities in particular enjoying the renaissance. A look at five such metros and their submarkets reveals some common ingredients—and differences—behind their success.
A strong employment sector: Check. Solid rent growth: Check. Cultural hubs that have multigenerational appeal: Check.
Metro areas that can check those boxes have been gold mines for landlords since the economy crawled out of the Great Recession. Nationally, rent growth eclipsed 4% for the seventh consecutive quarter in the first quarter of 2016, ­according to Dallas-based Axiometrics, as occupancy came in at 94.8%.
When the economy collapsed, multifamily projects from coast to coast dwindled. So when developers regained their footing, cranes slowly began popping up in every metro. But since construction began, some markets have seen far more activity than others.
Since 2010, the Houston metro has delivered 59,160 units, good for most in the nation, according to Axiometrics. Dallas was close behind, with 56,220 units delivered, followed by the Washington, D.C., metro (42,819); Austin, Texas (31,937); and New York City (29,426). Texas and its 202,737 units delivered since 2010 rank first, more than double ­second-place California's 87,774 units.
Most developers say the construction boom is driven by demand, and The State of the Nation's Housing 2016 report from the Joint Center for Housing Studies backs that claim with data that show there are now 9 million more renters than a decade ago. Moreover, the report states, 36% of U.S. households opted to rent in 2015, the largest share since the 1960s. For the time being, developers seem intent to strike while the market is hot, especially in certain areas, although land and construction costs have risen steadily.
We examined the five metros where a submarket has delivered over 9,000 units since 2010. We wanted to figure out what's really driving development. Is it demand? A combination of demand and strong investor appetite?
The metros we discuss on the following pages—Atlanta; Dallas; Houston; San Jose, Calif.; and Seattle—have their share of similarities and differences, as construction seems to have peaked in some and is picking up in others.